How does it work
The work permit system for each organization
WPS is a work permit system suitable for any type of organization, profit and nonprofit. Whether you produce something, provide a service or do something completely different, you want it done safely and supported by a system that gives overview and control over all current issued permits, work permits and isolations. WPS is powerful, flexible and combines the three most important functionalities in one system; work permit, TRA and isolation. With the countless parameters, WPS is tailored to the organization and its requirements in terms of occupational safety.
1. Request a work permit
The issuer requests a new work permit by answering a number of questions about the work or by checking measures. All these questions and / or measures are contained in a number of categorized checklists. Together we set up all the questions, answers and measures. You can also assign specific questions to automatically start a TRA or Lockout Tagout procedure in a subsequent step.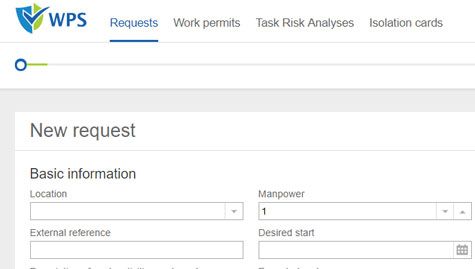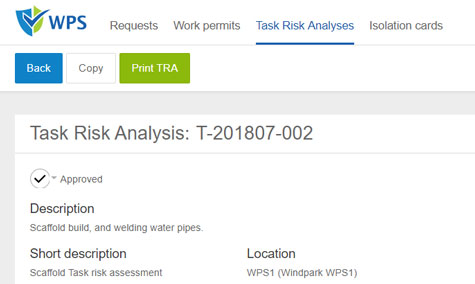 2. Additional TRA and / or work document
Risk analyzes have different forms. In WPS an additional TRA procedure can be established, whereby a TRA is linked to the work permit. Base TRAs can also be created, linked to a location, which can be used to speed up this part of the process. If there is a TRA procedure that is separate from the system, it can also be linked to a digital work permit as an attachment or authorized work document.
3. Pending work permit
The coordinator (security officer or other responsible role) receives a notification of the requested work permit. From any device, the requested permit can be viewed, corrected, disapproved, returned, or approved. Cosigners (if relevant to this work permit) also receive a notification and can log in directly from each device to give their review.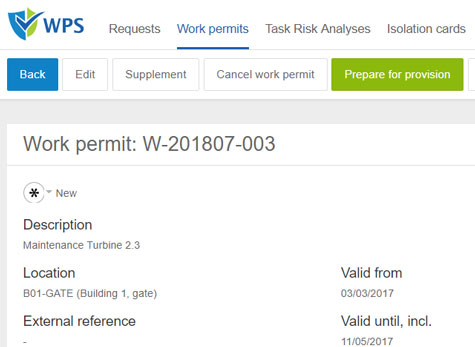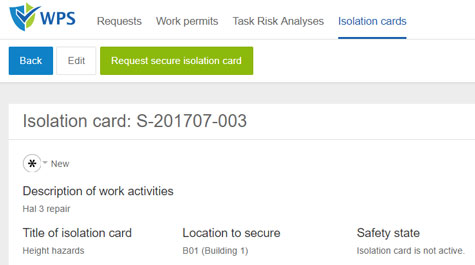 4. Lock-out, tag-out
WPS also offers the ability to make the LOTO functionality (lockout tagout) part of the process. Standard isolations and documents can be linked to each location or part. Safety cards with a list of isolations and tags are automatically generated as PDF. These can be printed out to mark the isolations. Here too, WPS can be configured with various parameters.
5. LMRA
Due to the versatility of options in WPS, the holder can be digitally involved in the process in various ways. For example, it is possible to activate a LMRA step that the permit holder must perform before the work permit can be released. Other roles in the work permit process can also be involved in the LMRA step.